Recognition and Evaluation of Autism Contact Training (REACT) program

Interaction Advisory Group has partnered with the UAB School of Health Professions to provide law enforcement with customized training to help officers better recognize and respond to people with disabilities. The Recognition and Evaluation of Autism Contact Training (REACT) program, a unique public-private partnership, offers all the educational instruction online so it is accessible to any law enforcement department across the United States.
The peer-reviewed curriculum was designed by a committee of UAB professors, academic instructional design specialists, law enforcement experts and authorities in various areas of disabilities in order to meet the highest standards of academic excellence.
Asynchronous Training
The online training is asynchronous – meaning the course is custom designed specifically to be self-paced and learned without instructors present.
The interactive design allows the program to directly assess each learner's knowledge. This method of online learning ensures the information is being fully understood at a level of clarity where the trained law enforcement officers can immediately react and apply the lessons learned to their daily interactions with all people.
Get Started Now
REACT is the authority in asynchronous online disability training. The unique ability to customize the curriculum to meet your department's needs, while keeping it affordable and accessible to everyone, sets this program apart from all others.
If you or your department or organization are interested in training, please click here to contact us so we can customize a program for you.
The Need is Now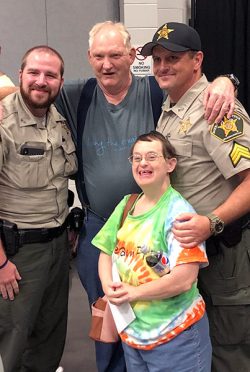 According to the Autism Society, "more than 3.5 million Americans are living with an autism spectrum disorder." And when you consider a study by the Centers for Disease Control and Prevention says 1 in 5 adults in the United States has a disability, the chance of law enforcement personnel encountering an adult with a disability increases everyday.
The need for the REACT training is real and it is immediate for both law enforcement and the public they serve.
The Team
UAB School of Health Professions
Harold Jones, Ph.D., dean, UAB SHP
Patrick McNees, Ph.D., senior associate dean, Strategic Partnerships and Enterprise Development, UAB SHP
Interaction Advisory Group
Dustin Chandler, president and co-founder, IAG
Autism Spectrum Disorders Clinic
Sarah O'Kelley, Ph.D., director, ASD Clinic at UAB Civitan-Sparks Clinics