Chief David P. Hyche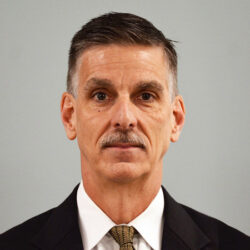 David P. Hyche is currently the Chief of Police for the Calera, Alabama Police Department. In May 2020, David retired from the ATF having served as Assistant Special Agent in Charge of the Nashville Field Division, Overseeing the Alabama offices of the Bureau of Alcohol, Tobacco, Firearms and Explosives (ATF) as well as the Crime gun Intelligence Unit in Nashville Tennessee. Hyche had been in this position since March 2015. Hyche supervised the five ATF offices in the state of Alabama and one in Tennessee. Prior to this post, Hyche served as Resident Agent in Charge of Birmingham Group III and the Huntsville, Alabama Satellite office. Hyche held this position for fifteen years. Hyche also served as ATF Program Manager at Bureau Headquarters for two years, managing the Bureau's Post Blast Training Programs and conducting explosive training around the U.S. and in 24 countries. Hyche was an ATF field agent in Atlanta for eight years and Birmingham for two prior to getting into management. Prior to ATF, Hyche worked as a Special Agent for the U.S. Department of Labor's Inspector General Office. Hyche is a 1986 graduate of the Alabama Law Enforcement Academy and worked for the University of Alabama Police Department for just under two years while in college.
Hyche has been a Certified Explosives Specialist for ATF for the past sixteen years and has held the position of Chapter Director for the International Association of Bomb Technicians and Investigators for the past twelve years.
Hyche holds a Bachelor's and a Master's degree in Criminal Justice from The University of Alabama.
Hyche and his wife adopted a child who suffered a brain bleed and lost her vision as an infant. His Daughter Rachel is blind and is the motivation for the RACHEL project which facilitates the manufacture of audible Easter Eggs which are distributed around the country to allow accessible, enjoyable Easter egg hunts for blind children. Hyche has been a board member for the Greystone YMCA, the AIDB Birmingham Regional Center advisory board and currently serves on the Alabama Department of Rehabilitation Services Blind Advisory Board.